Benefits ►Cut Discipline Up To 50% ► Regain Weeks Of Quality Teaching Time
►3-Minute Activity Plans Tied to Your Existing Lessons ►Training, Materials, Reporting

Click:
Contact Us School Bullying Prevention

Click:
To Watch Program Results Video

Click: To Buy Casey Series Character Education : Social Intelligence Books
KC3 Positive Label Bullying Prevention Character Ed Program is a research based Bully Prevention and Positive Character Program, proven to decrease name-calling, discipline and distraction incidents in school and on the school bus. It increases self-esteem, positive attitude and cooperation. It improves a school's atmosphere for learning and improves bus safety by decreasing distractions. It positively impacts the atmosphere in which school children, teachers and bus drivers start and spend their day.
The Program has expanded beyond the curb and on to the bus and into the community. Traditional bright yellow buses are being morphed into "Mobile Positive Word Zones" as drivers complete the certification program with their riders. Home Program is available to two year participants at no additional charge.

The Positive Label Program been commended by the White House, been featured on Fox News, is recommended by the Georgia Center of Character Education and is an Official Resource Project of the National Museum of Patriotism. The names of Schools and Transportation teams completing their certification will be included in the "Casey Citizenship Exhibit" at the National Museum of Patriotism.
Positive Label Program has multiple, fun, age-appropriate booster lessons, providing a strong foundation for creating and rewarding healthy relationship habits. It supports the goals of Second Step and Safe and Drug Free Schools. It ties easily into existing teacher lessons and supports ongoing Character Education initiatives. This "Inclusive" program supports efforts to ensure that No Child Is Left Behind.
TO BUY THE CASEY BOOKS ONLINE - CLICK HERE
TO REVIEW POSITIVE LABEL PROGRAM RESULTS - CLICK HERE
TO LEARN MORE ABOUT BUS PROGRAM - CLICK HERE
TO ENJOY PROGRAM PHOTO MEMORIES & STORIES - CLICK HERE
If your child's school or school bus is becoming one of America's Certified Positive Label Zones this month, we invite you to accept our gift and download a complete a mini version of the Positive Label Home Program. Go to "download" page and follow the simple instructions.
Positive Label Bully Prevention + Character Education Program:
Addresses the awesome power of labels/words -- for either good or harm
Breaks the name calling and bullying cycle
Stops school violence before it starts
Teaches self respect and empathy skills
Empowers patriotism and citizenship
Brings Character Education traits to life
Encourages reading
Values grandparents
Simple to use and easy to include
Includes a parent outreach/enrichment component
Research based (pre/post testing) -- to provide measurable impact

Committed to positively impacting the world -- one child, one home, one school at a time.
A Proven Effective Method to Stop Bullying

Brings Character Education To Life For Teachers, Parents and Students
In a period of only 6 weeks 96% of the required traits can be introduced, brought to life, and practiced using the Casey story series as a foundation.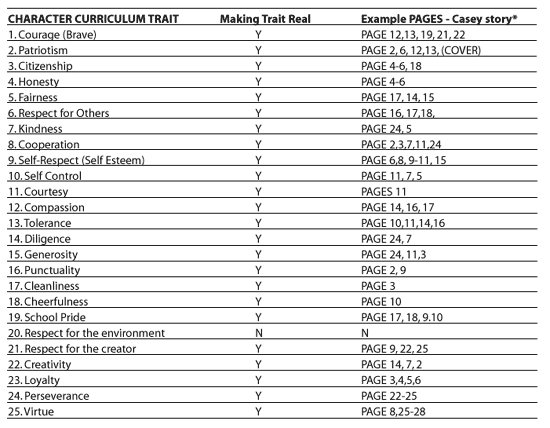 "Local boards may implement such a program at any time for any grade levels, and the state board shall ncourage the implementation of such plan. All laws and parts of laws in conflict with the ACT are repealed."
Source: http://www.glc.k12.ga.us/qstd-int/ancil/charedu/implmnt.htm
* Examples - traits being put into "action" are also found on additional pages of book and in activities