"Discover the Spirit of America"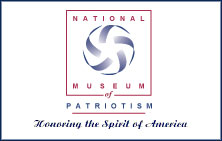 The National Museum of Patriotism is about educating our country's youth, celebrating personal achievement, motivating people to respect the rights of others, to help our neighbors, to inspire good, and to magnify love of one's country.
Our nation needs a place to learn about patriotism and citizenship. The Museum will teach Americans about the noble ideals of this great land and develop strong character in students.
The National Museum of Patriotism features the new Casey KC3 Citizenship Exhibit.

Museum founder, Nick Snider founded the KC3 Citizenship in Motion national award program.
Contact Museum
404 875-0691
27 Baker Street North East
Atlanta, GA 30309
Adults: $6 Seniors (65+)/Students $4
Active Duty Military: FREE