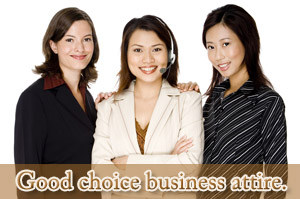 More than likely at some point in your life you have been running late for work. You probably have had a morning when you kept hitting that snooze button on your alarm clock just wanting a few more minutes of sleep. Before you know it you are running late for work, and while you may skip breakfast or that long leisurely shower, more than likely it is what you wear that suffers the most.
It can definitely be a problem when you just grab anything out of your closet and then head off to work. It will not only leave a bad taste in the mouth of your employers, but it can also slow you down when you are trying to climb that career ladder as well. Employers may wonder if you will take the time to pay attention to details at work if you do not pay attention to what you are wearing. In many cases they may believe that if you dress poorly you may have a poor work ethic as well.
As you probably are beginning to see, dressing correctly is very important if you are going to enjoy career success; however, it can be difficult to know what your boss wants you to wear at work when guidelines only refer to appropriate dress as "business casual dress." It can be especially hard for women to figure out what they should wear, so when you are in doubt, take a look at the women in high positions at your company. Does she wear pant suits or skirt suits and does she wear pantyhose with those skirts? If there are no regularly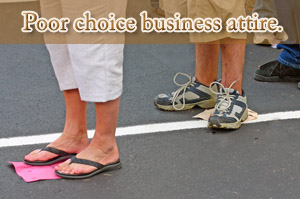 visible women in high positions, then take a look at the men. If the men are always wearing suits for regular work day, then skirt suits and pant suits are going to be your best options. Men can have the same issues too, wondering if they need a formal suit or if jeans and a golf shirt are acceptable for most work days. Word to the wise – if you are calling on a client, being aware of their dress code can help you make a good first impression. Then adding to the difficulty level , sometimes all the standard apparel rules change for Friday. Keep it in mind.
There are four different categories of business dress that you need to know and understand. These include boardroom dress, business dress, executive casual dress, and casual dress.
Boardroom Dress - Boardroom dress is definitely going to be the most strict type of dress code you will find on the job. You want to dress to impress the people in the boardroom; however, you want to avoid being flashy too. Both men and women need to make sure that they wear a nice suit that is of a very high quality. Men need to have a nice tie on and the tie should be conservative in nature. Women should only wear a small amount of jewelry and avoid anything too eye catching or gaudy. You want to look professional in the boardroom, and more than likely this is not going to include wearing something straight off the runway in Paris or New York City.
Business Dress - Just a step down from boardroom dress, this is still very important. You will need to wear a nice suit with a tie and if you do not you may just lose your job. Dress codes are important to companies so you need to be sure that you dress to meet the code. Women will want to wear a business suit as well, such as a skirt suit or a pant suit. You should wear hosiery with your suits, shoes with a closed toe, a modest amount of jewelry, a conservative hairstyle, and nice makeup.
Executive Casual Dress - Companies that require you to wear executive casual dress allow you a little more room. This means you will want to wear a nice shirt and pants; however, a tie will not be required. Women should wear nice pants with a dressy blouse or a nice skirt with a dressy top.
Casual Dress - People who work for companies that allow casual dress are extremely lucky. Pretty much anything will go as long as it does not have holes and is clean. While you may enjoy wearing something comfortable like a comfy pair of jeans with your sandals, remember that you do want to impress people with your dress as well, so something not quite so casual may be your best bet.
Remember: It is important that you always check with your specific company to see what the dress code entails. Don't simply guess; ask. Your dress can influence whether or not you get that promotion you want or the new client for your company. So, next time you are tempted to sleep in or dress in the dark, remember it is very important that you dress for your career's success. Spend a few minutes the night before to have your clothes ready for the next work day. Think of it as snooze alarm protection.
Margaret Ross, president Kamaron Institute, is a workplace and educational expert, author of Making Business Work and the Good Finder book series for families.
© Kamaron Institute Press. All rights reserved.