Reader Reviews
* "An Amazing Book About Labeling" - SAYS THE ATLANTA JOURNAL COUNSTITUTION
To order books from Institutes Family Book Store Service, Click
* "You are holding in your hands a living classic. Never have I read a children's book so packed with entertainment, education and motivation. Every page has a lesson on patriotism and character building. I enjoyed it when I read it and even more when I reread it. In all my years of teaching people to love to read and the importance of books, I've never read anything quite like it. It is truly tremendous and young and old are going to love it." - Charles E. Jones, CPAE and author of "Life is Tremendous"
*"Another attractive feature are the potential activities recommended in implementing the program, engaging the broad range of learning styles." - GEORGIA CENTER FOR CHARACTER EDUCATION
*"Mrs. Bush thanks you for your work and hopes you will continue your efforts to promote reading." - THE WHITE HOUSE
*"We have found a lot to like in the Casey series books and he KC3 Program. Program addresses the broad range of character traits mandated for state's schools and offers special attention to bullying."
*"The materials that accompany the story are easy to use and laid out in a process that can be adapted to a range of school settings and resources, and offer a wonderful flexibility for educators in creatively implementing the program. "

Business Books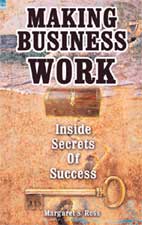 Making Business Work is a must read for successful leadership in any organization or team -- whether it's a Fortune 500 corporation, entrepreneurial team, small business, professional or investment group. It is a pocket-sized MBA program for the real world. Demystifying the business jargon, Margaret puts the focus where it belongs -- on making a profit.
 IMPORTANT: To order Casey and The Amazing Giant Green Shirt $9.99 +, Click here.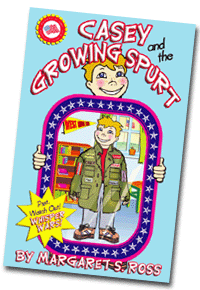 Available at Amazon.com. Click on the book picture above.